This is the last timeline in our series covering Jesus' life and ministry. It lists the nine times he appeared in human form after his resurrection from the dead. Other timelines in this series are listed at
the bottom of this article
.
Christ, after preaching his Father's message to the world for three and one-half years, is illegally arrested, tried, and executed in the spring of 30 A.D. God, however, resurrects him from the dead after he spends three full days in the tomb.
Though the work of providing a sinless sacrifice through which man can be reconciled to God was complete, Christ had a few more things to accomplish before his final farewell to his disciples.
Dates of Jesus' appearances are listed in the below timeline in both Roman (modern) and Biblical (Hebrew) calendar formats. Please note that while Roman days begin at midnight, Biblical days begin at sunset.
#1 - Mary Magdalene
Sunday, April 9, 30 A.D. (Nisan 18, 3790)
Mary Magdalene was a woman who had SEVEN demons cast from her early in Jesus' ministry (Mark 16:9, Luke 8:2 - 3). She was one of a very close circle of family and friends who followed his ministry until his life ended on the cross. Mary is the first human Jesus chose to reveal himself alive to, early Sunday morning, after God brought him back from the dead the previous day (Mark 16:9 - 11, John 20:11 - 18).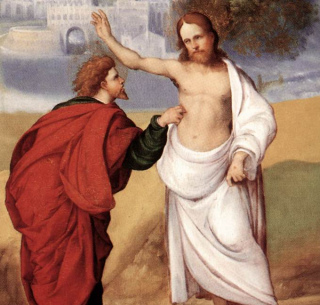 The Incredulity of St. Thomas
L. Mazzolino, c. 1522
#2 - A surprise visit
Sunday, April 9
Jesus miraculously appears to two men while they are walking to Emmaus (Luke 24:13 - 33), a small village that was roughly seven miles (11.2 kilometers) from Jerusalem. He chides them for not believing what the prophets foretold regarding the Messiah then explains to them all the Biblical verses that pertained to him.
The two men do not realize whom they are talking with until they all sit to eat. The moment 'their eyes were opened' and they realized it was Jesus they were talking with, he vanished from their sight!
#3 - Appearance behind closed doors
Sunday, April 9 after sunset (Nisan 19)
This is the first time Jesus shows himself alive to those who participated in his last Passover meal. His miraculous manifestation occurs while the disciples are behind closed doors in fear of the Jews. For reasons unknown, the disciple named Thomas was not with the group at this time (see John 20:19).
After Christ leaves, the disciples tell Thomas that the Lord appeared to them. Thomas doubts (which is where the phrase 'doubting Thomas' came from) their words and states "Unless I see the nail marks in His hands, and put my finger into the nail marks, and put my hand into His side, I will not believe at all" (John 20:25).
#4 - Doubting Thomas
Sunday, April 16 after sunset (Nisan 26)
Jesus miraculously manifests himself again to his disciples, but this time Thomas is present (John 20:26 - 29). Although this constitutes the Lord's fourth time he has shown himself to humans to prove he has risen from the dead, this is the first time all those (except Judas) who ate Passover with him see him as a group. The Lord allows Thomas to observe the wounds he received in order to strengthen his faith.
APRIL
30 A.D.

1
2
3
4
5
6
7
8

9

10
11
12
13
14
15

16

17
18
19
20
21
22
23
24
25
26
27
28
29
30
MAY
30 A.D.

1
2
3
4
5
6
7
8
9
10
11
12
13
14
15
16
17

18

19
20
21
22
23
24
25
26
27
28
29

30

31
#5 - Five hundred witness Christ alive
Between April 17 and May 17
(Nisan 27 to Iyar 26)
The apostle Paul is the only New Testament writer that mentions Jesus appeared to over five hundred brethren at one time after his resurrection (1Corinthians 15:6). He does not specify an exact date when this event occurred.
#6 - An appointment in Galilee
Between April 17 and May 17
After partaking of his last Passover, Jesus told his eleven disciples (Judas was betraying him at the time) as they walked toward the Garden of Gethsemane, "But after I have been raised, I will go before you into Galilee" (Matthew 26:32, see also Mark 14:28). The Bible records this meeting did occur (Matthew 28:16 - 17).
#7 - On the shores of Galilee
Between April 17 and May 17
Jesus shows himself to seven of his disciples while they are fishing on Lake Galilee (John 21:1 - 24). Those who saw him were Peter, John, James, Thomas, Nathanael, and two other unnamed disciples (likely Andrew and Philip, who lived in the general area).
During this appearance Peter miraculously catches 153 fish in his net, then has Jesus ask him three times if he loves him. Peter then learns he will die a martyrs' death. Christ also alludes that John will remain alive long enough to write about the end of the age and his Second Coming.
#8 - Special appearance to James
Between April 17 and May 17
Jesus made a special appearance to James his physical half-brother (Matthew 13:55, Mark 6:3, Galatians 1:19). This manifestation, according to Paul, took place between Christ's appearance before 500+ people and a time he appeared to all the apostles (1Corinthians 15:5 - 7). It is unclear whether Paul is referencing Christ's first meeting in Galilee or his last manifestation when he ascended into heaven.
#9 - Commission and ascension
Thursday, May 18 (Iyar 27, 3790)
Jesus meets with the disciples on the Mount of Olives (Acts 1). He gives them, just before his ascension, what is referred to as the Great Commission. He also tells them to wait ten more days, in the city of Jerusalem, so that they may receive the power of the Holy Spirit (Matthew 28:18 - 20, Mark 16:15 - 18, Acts 1:4 - 5).
The disciples ask Jesus if he will now restore the kingdom to Israel. He states that it is not for them to know when this will occur and reminds them of the power they will soon receive from God. He then blesses the disciples and begins to rise above the mount as he ascends to heaven.
Two angels in white appear as the disciples gaze at the Lord lifting above the clouds. The angels tell them that Jesus will come back to the earth in the same way they saw him leave (Mark 16:19 - 20, Luke 24:50 - 53, Acts 1:6 - 11).
The Day of Pentecost
Sunday, May 28 (Sivan 8, 3790)
The disciples wait ten days in Jerusalem, as instructed by Christ, for the promise of God's spirit. On the day of Pentecost, the birth of the New Testament church occurs when God gives his spirit to more than 3,120 people (Acts 2)! Jesus' ministry after his resurrection sets the groundwork for the perfect beginning of the Christian church!