Berea, located in the Roman province of Macedonia in Greece, is named after a word that means a "place of many waters." The city, during the New Testament period, was one of the most populous in Macedonia. The church it would ultimately host came into existence against a backdrop of persecution from the nearby town of Thessalonica.
The Apostle Paul visited Berea during his second missionary journey which took place from 49 to 52 A.D. His first visit in 50 A.D. happened abruptly, when he and Silas had to flee to the city after being chased out of Thessalonica by a large group of riotous and zealous Jews.
But the unbelieving Jews (of Thessalonica) became envious and took to them certain evil men of the baser sort; and when they had gathered a huge crowd, they set the city in an uproar; and they assaulted the house of Jason, looking for Paul and Silas, to bring them out to the people . . .

Then the brethren immediately sent away by night to Berea both Paul and Silas, who, when they arrived, went into the synagogue of the Jews (Acts 17:5, 10, HBFV).
Paul and Silas, after they arrived in Berea, were impressed that the people, unlike those of Thessalonica, had a sincere interest in understanding God's truth. They distinguished themselves as those who were willing to verify what was taught against what was written in Scripture.
Now these (the Bereans) were more noble than those in Thessalonica, for they received the Word with all readiness of mind and examined the Scriptures daily to see if these things were so (Acts 17:11).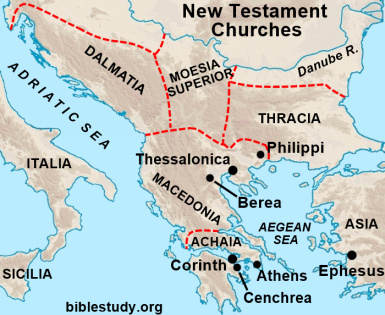 The popular reference book "Life and Epistles of Apostle Paul" by Conybeare and Howson wrote the following concerning the hearts of those in Berea.
"When Apostle Paul arrived, he went, according to his custom, immediately to the synagogue. The Jews here were of a "nobler" spirit than those of Thessalonica. The minds of those in Berea were less narrowed by prejudice and they were more willing to receive the truth in the love of it . . .

"In a spirit very different from the ignoble violence of the Thessalonian Jews, those in Berea not only listened to Apostle Paul's arguments, but they examined the Scriptures themselves, to see if those arguments were justified by prophecy" (Chapter 9).
God blessed Paul and Silas' evangelistic efforts by calling a great number of those in Berea to become a part of his church. Among the many whose hearts were opened to the gospel were Greek men and woman of some standing in society.
As a result, a great number of them believed, including not a few of the honorable Greek women and men (Acts 17:12).
The Apostle Paul revisits the new church at Berea during his third missionary journey which ran from 53 to 58 A.D.