In relation to Cenchrea, Corinth was located on the opposite side of the isthmus that connected the Peloponnesus to the mainland of Greece. Ironically, although the city was ancient in the first century A.D., it was quite new.
In 146 B.C., the Romans burned Corinth to the ground, killed all the city's males and sold both women and children into slavery. A century later, Julius Caesar completely rebuilt the city. It subsequently grew so rapidly that it quickly became an important economic area in the Empire and the seat of government for the province of Achaia (see Acts 18:12 - 16).
Corinth, along with Jerusalem, Syrian Antioch and Ephesus, was one of the few prominent centers of early Christianity. It also one of the few cities Paul stayed in for an extended period (the others being Caesarea and Rome (as a prisoner), Syrian Antioch, Ephesus and Tarsus).
The large city boasted several house churches. A group of Christians met in the home of Justus, whose residence was right next to a local Jewish synagogue (Acts 18:7). Those who also hosted brethren in their home were Chloe (1Corinthians 1:11) and Gaius (Romans 16:23), who was one of only a very few people personally baptized by Paul (1Cor. 1:14). A home fellowship may have also been hosted by a man named Crispus.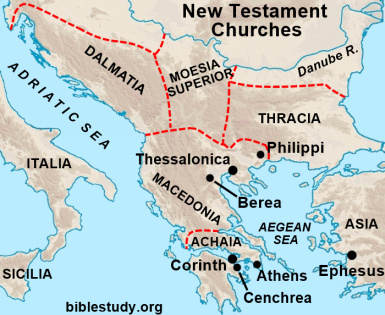 Now when Silas and Timothy came down from Macedonia, Paul was stirred in his spirit and was earnestly testifying to the Jews that Jesus was the Christ . . .

And after departing from there, he went into the house of a certain one named Justus, who worshiped God, whose house adjoined the synagogue . . . (Acts 18:5, 7, HBFV).

For my brethren, it has been declared to me concerning you, by those of the house of Chloe, that there are contentions among you . . . (1Corinthians 1:11).

Gaius, my host, and that of the whole church, salutes you (Paul wrote the book of Romans from Corinth). Erastus, the steward of the city, and Quartus, a brother, salute you (Romans 16:23).
Cenchrea
Cenchrea, a port city on the isthmus that connects the Peloponnesus to the mainland of Greece, was located about nine miles (14.5 kilometers) east of Corinth. Its access to the Mediterranean allowed Corinthian trade to travel by water to Asia and other eastern sections of the Roman Empire.
Paul's well-known epistle to the Romans was written in Macedonia and taken to Rome by Phoebe, a deaconess in a home church that met in Cenchrea. Paul not only commends her character and charity in serving God's people but also instructs brethren in Rome to give her whatever she needs when she arrives (Romans 16:1 - 2).