The city of Philippi was located on the main route from Rome to Asia Minor. Constituted as a Roman colony by Emperor Augustus, it became one of the administrative centers of Macedonia. The privileges bestowed on it made it the primary or chief city of the region (Acts 16:12).
Paul's journey to Philippi, which would lead to establishing the first Christian church in Europe, was surprisingly not something he initially desired. Around 50 A.D., during his second missionary journey, he decides to preach the gospel in the western section of the Province of Asia. God, however, somehow conveys to Paul that this is something against his will (Acts 16:6). The apostle then attempts to go northwest to Bithynia but again has his plans thwarted (verse 7).
It takes a miraculous vision to lead Paul across the Aegean Sea into Macedonia. After stopping in Philippi he meets a business woman named Lydia. After hearing the gospel she decides to be baptized along with her entire household.
Then on the day of the weeks (Pentecost) we went outside the city by a river, where it was customary for prayer to be made; and after sitting down, we spoke to the women who were gathered together there.

And a certain woman who worshiped God was listening; she was named Lydia and was a seller of purple from the city of Thyatira; whose heart the Lord opened to receive the things spoken by Paul.

And after she and her household were baptized, she besought us, saying, "If you have judged me to be faithful to the Lord, come to my house . . ." (Acts 16:13 - 15, HBFV).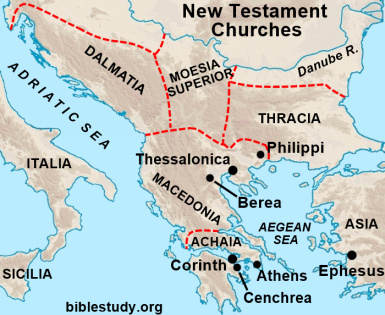 A short time later Paul and Silas are arrested, beaten and then miraculously freed from a prison in Philippi. The jailer of the prison, convicted by the miracle he witnessed, repents and is baptized along with his entire household (Acts 16:30 - 32). These, along with others, become the founding members of the church at Philippi.
Now after leaving the prison, they came to Lydia (her house); and when they had seen the brethren, and had exhorted them, they departed (Acts 16:40).
Paul will revisit the church in Philippi during his third missionary journey (53 to 58 A.D.). The Christians in the city ultimately occupy a special place in the apostle's heart, as they are the only ones who support him financially even as he ministered in other areas (2Corinthians 11:7 - 9, Philippians 4:15 - 18).