Caesarea Maritima (also known as Caesarea Palestina) was located on the shores of the Mediterranean Sea. It was constructed by Herod the Great in honor of Roman Emperor Caesar Augustus. After being built, it soon became the capital of the Roman Province of Judea (Palestine) and the place where troops were headquartered.
The International Standard Bible Encyclopedia describes the beauty of Caesarea as follows.
"With his usual magnificence Herod lavished adornments on the city. He erected sumptuous palaces and public buildings, a theater, and amphitheater with prospect to the sea; while a spacious system of sewers under the city secured cleanliness and health. But "the greatest and most laborious work of all" was a magnificent harbor "always free from the waves of the sea" . . .
"It (the harbor) was of excellent workmanship, and all the more remarkable because the place itself was not suitable for such noble structures."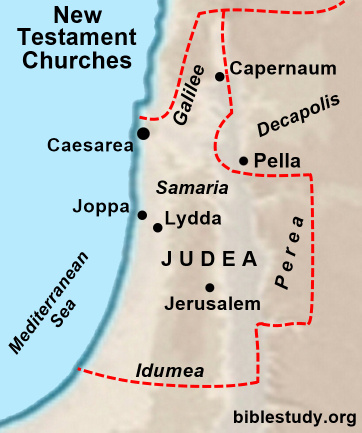 Caesarea is Biblically famous for being the home of Cornelius who was a Roman centurion. Cornelius became the first known Gentile added to the church when the Apostle Peter was inspired to visit and baptize him (Acts 10).
The Apostle Paul visited or passed through the port city several times during his ministry. Near the end of his third missionary journey he visited the home of Philip the evangelist who was hosting a fellowship in his home.
Paul and those of us who had accompanied him departed and came to Caesarea; and we went into the house of Philip the evangelist, who was one of the seven (one of the first seven deacons, see Acts 6:5), and stayed with him. And this man had four virgin daughters who prophesied . . .

And after these days, we packed the baggage and went up to Jerusalem. And some of the disciples from Caesarea also went with us . . . (Acts 21:8 - 9, 15 - 16).