My son, do not despise the chastening of the Lord, nor be weary of His correction; (Proverbs 3:11).
There is grievous correction for him who forsakes the way; he who hates reproof shall die (Proverbs 15:10).
My child, pay attention and listen to my wisdom and insight. Then you will know how to behave properly, and your words will show that you have knowledge (Proverbs 5:1).
For the commandment is a lamp, and the law a light; reproofs of instruction are the way of life (Proverbs 6:23).
But a wise man, when rebuked, will love you all the more (Proverbs 9:8).
People who listen when they are corrected will live, but those who will not admit that they are wrong are in danger (Proverbs 10:17).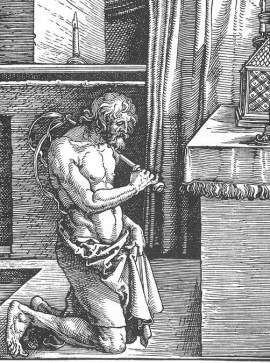 The Penitent
Albrecht Durer, 1510
Where there is no counsel, the people fall; but in the multitude of counselors there is safety (Proverbs 11:14).
Someone who will not learn will be poor and disgraced (Proverbs 13:18).
World's Wit and Wisdom
A criminal is a person with
predatory instincts who has
not sufficient capital
to form a corporation.
That which has always been
accepted by everyone,
everywhere, is almost
certain to be false.
Howard Scott, 1926 -
Conceited people do not like to be corrected; they never ask for advice from those who are wiser (Proverbs 15:12).
The ear that hears the rebukes of life will abide among the wise (Proverbs 15:31).
Rebuke is more effective for a wise man than a hundred blows on a fool (Proverbs 17:10).
Also, to punish the righteous is not good, nor to strike princes for their uprightness (Proverbs 17:26).
Discipline your children while they are young enough to learn. If you don't, you are helping them destroy themselves (Proverbs 19:18).
World's Wit and Wisdom
Those who never retract their
opinions love themselves more
than they love the truth.
Joseph Joubert, 1754 - 1824
Unlike grownups,
children have little need
to deceive themselves.
Johann Wolfgang von Goethe, 1749 - 1834
Listen to counsel and receive instruction, That you may be wise in your latter days. There are many plans in a man's heart, nevertheless the Lord's counsel - that will stand (Proverbs 19:20 - 21).
Judgments are prepared for scoffers, and beatings for the backs of fools (Proverbs 19:29).
Counsel in the heart of man is like deep water, but a man of understanding will draw it out (Proverbs 20:5).
There is no wisdom or understanding or counsel against the Lord (Proverbs 21:30).
World's Wit and Wisdom
Self-respect is the
root of discipline.
The sense of dignity
grows with the ability to
say no to oneself.
Abraham Heschel, 1907 - 1972
Foolishness is bound up in the heart of a child, but the rod of correction shall drive it far from him (Proverbs 22:15).
For by wise counsel you will wage your own war, and in a multitude of counselors there is safety (Proverbs 24:6).
A warning given by an experienced person to someone willing to listen is more valuable than gold rings or jewelry made of the finest gold (Proverbs 25:12).
A whip for the horse, a bridle for the donkey, and a rod for the fool's back (Proverbs 26:3).
Scolding and spanking a child helps him to learn. Left to himself, he brings shame to his mother . . . Discipline your son and he will give you happiness and peace of mind (Proverbs 29:15, 17).
Do not withhold correction from a child, for if you beat him with the rod, he will not die (Proverbs 23:13).
Immediately he went after her (a woman enticing him into sexual immorality), as an ox goes to the slaughter, or as a fool to the correction of the stocks (Proverbs 7:22).