Honor the Lord from your wealth and from the first of all your produce; So your barns will be filled with plenty and your vats will overflow with new wine (Proverbs 3:9 - 10).
I, wisdom, dwell with prudence . . . Riches and honor are with me, enduring wealth and righteousness . . . I walk in the way of righteousness, in the midst of the paths of justice, To endow those who love me with wealth, that I may fill their treasuries (Proverbs 8:12, 18, 20 - 21).
The wealth of the wise is their crown, but the folly of fools yields folly (Proverbs 14:24).
The rich man's wealth is his fortress, the ruin of the poor is their poverty (Proverbs 10:15).
Poor is he who works with a negligent hand, but the hand of the diligent makes rich (Proverbs 10:4).
Riches do not profit in the day of wrath, but righteousness delivers from death (Proverbs 11:4).
A little sleep, a little slumber, a little folding of the hands to rest - your poverty will come in like a vagabond and your need like an armed man (Proverbs 6:10 - 11).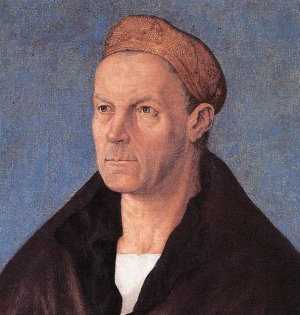 Jakob Fugger the wealthy
Albrecht Durer, 1518 - 20
A gracious woman attains honor, and ruthless men attain riches (Proverbs 11:16).
There is one who pretends to be rich, but has nothing; Another pretends to be poor, but has great wealth (Proverbs 13:7).
He who trusts in his riches will fall, but the righteous will flourish like the green leaf (Proverbs 11:28).
Better is he who is lightly esteemed and has a servant than he who honors himself and lacks bread (Proverbs 12:9).
The poor is hated even by his neighbor, but those who love the rich are many (Proverbs 14:20).
In all labor there is profit, but mere talk leads only to poverty (Proverbs 14:23).
World's Wit and Wisdom
Fortune does not change men;
it unmasks them.
Suzanne Necker, 1739 - 1794
Fame is the beginning
of the fall of greatness.
V. V. Rozanov, 1856 - 1919
Wealth obtained by fraud dwindles, but the one who gathers by labor increases it (Proverbs 13:11).
A good man leaves an inheritance to his children's children, and the wealth of the sinner is stored up for the righteous (Proverbs 13:22).
He who is greedy for gain troubles his own house, but he who hates bribes will live (Proverbs 15:27).
Better is a little with righteousness than great income with injustice (Proverbs 16:8).
A rich man's wealth is his strong city, and like a high wall in his own imagination (Proverbs 18:11).
The plans of the diligent lead surely to advantage, but everyone who is hasty comes surely to poverty (Proverbs 21:5).
World's Wit and Wisdom
No man is rich enough
to buy back his past.
Oscar Wilde, 1854 - 1900
Success is not so much
what you are, but rather
what you appear to be.
Anonymous
The rich rules over the poor, and the borrower becomes the lender's slave (Proverbs 22:7).
Houses and wealth are inherited from parents, but a prudent wife is from the Lord (Proverbs 19:14).
Know well the condition of your flocks, and pay attention to your herds; For riches are not forever, nor does a crown endure to all generations (Proverbs 27:23 - 24).
Better is the poor who walks in his integrity than he who is crooked though he be rich (Proverbs 28:6).
One who increases his possessions by usury and extortion gathers it for him who will pity the poor (Proverbs 28:8).
The rich man is wise in his own eyes, but the poor who has understanding sees through him (Proverbs 28:11).
He who hastens to be rich has an evil eye and does not know that poverty will come upon him (Proverbs 28:22).
The reward of humility and the fear of the Lord are riches, honor and life (Proverbs 22:4).
Great wealth is in the house of the righteous, but trouble is in the income of the wicked (Proverbs 15:6).
World's Wit and Wisdom
Nothing but money
is sweeter than honey.
Benjamin Franklin, 1706 - 1790
There are three faithful friends,
an old wife, an old dog,
and ready money.
Benjamin Franklin, 1706 - 1790
A good name is to be more desired than great wealth, favor is better than silver and gold (Proverbs 22:1).