Who wrote the book of Proverbs? Why was it written? What are its main topics? Why should we bother to read it?
In regard to who wrote Proverbs, it is fairly certain that King Solomon wrote chapters 1 to 29. A man named Agur likely wrote Chapter 30 while the last chapter was penned by King Lemuel.
We are told in the first chapter of Proverbs that its sayings were written down so that others could gain from them wisdom, discipline, words of insight, prudence, discretion and knowledge. Those who are already wise will be able to add to their wisdom.
Some of the main topics of the book of Proverbs are comparisons between man's and God's way of living, sin, gaining wisdom, fear of the Eternal, self-control, proper use of riches, training children, honesty, helpfulness, diligence, laziness, health and alcohol use, plus several others. The verses found in Proverbs can be divided up into at least seven main sections or topical areas.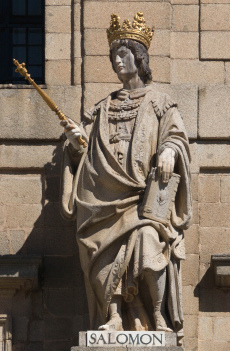 Statue of King Solomon
The first section of Proverbs, which runs from 1:7 to 9:18, discusses fearing God as the beginning of understanding. Section 2, which runs from 10:1 to 22:16, focuses on the wise sayings of Solomon. Section 3, composed of verses from 22:17 to 24:22, has words of the wise.
Section 4, from 24:23 to verse 34 of Proverbs, has more statements from those considered wise. Section 5, from 25:1 to 29:27, contains Solomon's wise words copied down by those who served King Hezekiah.
Section 6, which contains the entire thirtieth chapter, showcases the wisdom of Agur. The final section, composed of the last chapter of this book, highlights the wise words from King Lemuel regarding a virtuous wife.
Why read it?
There are several excellent reasons why a person should read and study this fascinating book.
Proverbs was written to lead a person to comprehend what it means to reverence God and find knowledge (Proverbs 2:5). It will also strengthen a person's faith in him and give them hope, for he promises ultimate victory to the righteous (Proverbs 2:7). Lastly, reading these words of wisdom will impart a deeper understanding of what is right and good (verse 9).
Those who reject the Godily wisdom of Proverbs are left to rely on their own flawed and fallible understanding. What they say can be perverse (Romans 3:11 - 14). They are lovers of darkness rather than light (Proverbs 1John 1:5 - 6, John 1:19) and they enjoy behaving sinfully (Proverbs 2Timothy 3:1 - 7, Hebrews 11:25). They can be deceptive and live a lie (Mark 7:22, Romans 3:13). Some, sadly, even indulge in full fledged demonism (Romans 1:22 - 32).
All of the above, and more, is what happens when the Proverbs are not heeded or taken seriously!