It is the Lord's blessing that makes you wealthy. Hard work can make you no richer (Proverbs 10:22).
By the blessing of the upright a city is lifted up, but it is overthrown by the mouth of the wicked (Proverbs 11:11).
He who withholds grain, the people shall curse him; but blessing shall be upon the head of him who sells it (Proverbs 11:26).
Good people will receive blessings. The words of the wicked hide a violent nature (Proverbs 10:6).
The Lord puts a curse on the homes of the wicked, but blesses the homes of the righteous (Proverbs 3:33).
Hear instruction, and be wise, and do not refuse it . . . For whoever finds me finds life and shall obtain favor from the Lord (Proverbs 8:33, 35).
For by me your days shall be multiplied, and the years of your life shall be increased (Proverbs 9:11).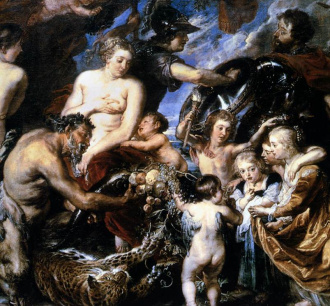 Allegory of blessings of peace
Peter Paul Rubens, 1629 - 30
My fruit is better than gold, yea, than fine gold; and what I give is better than choice silver. I lead in the way of righteousness, in the midst of the paths of justice, That I may cause those who love me to inherit substance; and I will fill their treasuries (Proverbs 8:19 - 21).
The righteous shall never be moved, and the wicked shall not remain in the land (Proverbs 10:30).
The good man receives grace from the Lord, but He will condemn a man of wicked devices (Proverbs 12:2).
All the days of the afflicted are evil, but the cheerful heart has a continual feast (Proverbs 15:15).
World's Wit and Wisdom
In prosperity our friends know us;
in adversity we know our friends.
John Collins, 1848 - 1908
Success is going from
failure to failure without
loss of enthusiasm.
Anonymous
Houses and riches are the inheritance of fathers, and a prudent wife is from the Lord (Proverbs 19:14).
Children are fortunate if they have a father who is honest and does what is right (Proverbs 20:7).
As the bird by wandering, as the swallow by flying, so the curse without cause shall not come (Proverbs 26:2).
You might as well curse your friends as wake them up early in the morning with a loud greeting (Proverbs 27:14).
World's Wit and Wisdom
A favor well bestowed is almost
as great an honor to him
who confers it as to him
who receives it.
Sir Richard Steele, 1672 - 1729
We all have strength
enough to endure the
misfortunes of others.
Francois Rochefoucauld, 1613 - 1680
He who gives to the poor shall not lack, but he who hides his eyes shall have many a curse (Proverbs 28:27).
Never criticize servants to their master. You will be cursed and suffer for it. There are people who curse their fathers and do not show their appreciation for their mothers (Proverbs 30:10 - 11).
A faithful man will abound with blessings, but he who makes haste to be rich will not go unpunished. (Proverbs 28:20).
But to those who rebuke him, it shall be a delight, and a good blessing shall come upon them (Proverbs 24:25).