Put away from you a deceitful mouth, and put perverse lips far from you (Proverbs 4:24).
A worthless person, a wicked man, walks with a perverse mouth, winking with his eyes, speaking with his feet, pointing with his fingers (Proverbs 6:12 - 13).
The mouth of the righteous is a well of life . . (Proverbs 10:11).
For the Lord gives wisdom; from His mouth come knowledge and understanding (Proverbs 2:6).
Get wisdom, get understanding; don't forget or turn away from the words of my mouth (Proverbs 4:5).
Suffer not thy mouth to cause thy flesh to sin; neither say thou before the angel, that is was an error: wherefore should God be angry at thy voice, and destroy the work of thy hands? (Ecclesiastes 5:6)
He who speaks truth declares righteousness, but a false witness, deceit. There is one who speaks like the piercings of a sword, but the tongue of the wise promotes health (Proverbs 12:17 - 18).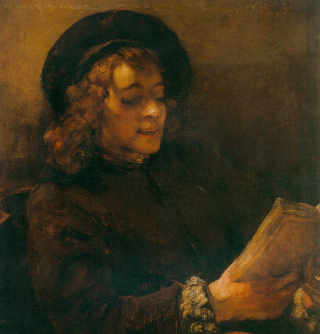 Titus reading aloud
Rembrandt, 1656
If you have been trapped by what you said, ensnared by the words of your mouth . . . Go and humble yourself; press your plea with your neighbor! (Proverbs 6:2 - 3).
Good people think before they answer (Proverbs 15:28).
Intelligent people think before they speak; what they say is then more persuasive (Proverbs 16:23).
The hypocrite with his mouth destroys his neighbor, but through knowledge the righteous will be delivered (Proverbs 11:9).
A soft answer turns away wrath, but a harsh word stirs up anger (Proverbs 15:1).
For my mouth shall utter truth; and wickedness is an abomination to my lips (Proverbs 8:7).
The lips of the wise disperse knowledge, but the heart of the fool does not do so (Proverbs 15:7).
World's Wit and Wisdom
Tact is the knack of
making a point without
making an enemy.
Sir Isaac Newton, 1642 - 1727
Don't tell your friends
their social faults;
they will cure the fault
and never forgive you.
Logon Smith, 1865 - 1946
Gossip is spread by wicked people; they stir up trouble and break up friendships (Proverbs 16:28).
The fear of Jehovah is to hate evil: pride, and arrogancy, and the evil way, and the perverse mouth, do I hate (Proverbs 8:13).
A man shall be satisfied with good by the fruit of his mouth; And the doings of a man's hands shall be rendered unto him (Proverbs 12:14).
The words of the wicked are of lying in wait for blood; But the mouth of the upright shall deliver them (Proverbs 12:6).
Wisdom is found on the lips of him who has understanding, but a rod is for the back of him who is devoid of understanding. Wise people store up knowledge, but the mouth of the foolish is near destruction (Proverbs 10:13 - 14).
World's Wit and Wisdom
We are more anxious
to speak than to be heard
Thoreau, 1817 - 1862
Social tact is making your
company feel at home,
even though you wish
they were.
Anonymous
Blessed is the man who,
having nothing to say,
abstains from giving in
words evidence of the fact.
George Eliot, 1819 - 1880
Blessings are upon the head of the righteous; but violence covereth the mouth of the wicked (Proverbs 10:6).
He who loves purity of heart and has grace on his lips, the king will be his friend (Proverbs 22:11).
Be not rash with thy mouth, and let not thy heart be hasty to utter anything before God; for God is in heaven, and thou upon earth: therefore let thy words be few (Ecclesiastes 5:2).
All man's efforts are for his mouth, yet his appetite is never satisfied (Ecclesiastes 6:7).
The words of a wise man's mouth are gracious; but the lips of a fool will swallow up himself (Ecclesiastes 10:12).
Yes, my inmost being will rejoice when your lips speak right things (Proverbs 23:16).
What you say can preserve life or destroy it; so you must accept the consequences of your words (Proverbs 18:21).
It is an honor to receive a frank reply . . . Don't testify spitefully against an innocent neighbor. Why lie about him? (Proverbs 24:26, 28).
A word fitly spoken is like apples of gold in settings of silver (Proverbs 25:11).
The beginning of the words of his mouth is foolishness; and the end of his talk is mischievous madness (Ecclesiastes 10:13).
Do not answer a fool according to his folly, lest you also be like him. Answer a fool according to his folly, lest he be wise in his own eyes (Proverbs 26:4 - 5).
He that guardeth his mouth keepeth his life; But he that openeth wide his lips shall have destruction (Proverbs 13:3).
The words of a talebearer are like tasty trifles, and they go down into the inmost body. Fervent lips with a wicked heart are like earthenware covered with silver dross (Proverbs 26:22 - 23).
Flattery is a form of hatred and wounds cruelly (Proverbs 26:28).
The discerning heart seeks knowledge, but the mouth of a fool feeds on folly (Proverbs 15:14).
Don't praise yourself; let others do it! (Proverbs 27:2).
A man who flatters his neighbor spreads a net for his feet (Proverbs 29:5).
A fool vents all his feelings, but a wise man holds them back (Proverbs 29:11).
There is more hope for a fool than for a man of quick temper (Proverbs 29:20).
The mouth of the righteous produces wisdom, but a perverse tongue will be cut out (Proverbs 10:31).
World's Wit and Wisdom
Speak little but do much.
Benjamin Franklin, 1706 - 1790
Words may show a
man's wit but
actions his meaning.
Benjamin Franklin, 1706 - 1790
The lips of the righteous know what is appropriate, but the mouth of the wicked, only what is perverse (Proverbs 10:32).
Whoever guards his mouth and tongue keeps his soul from troubles (Proverbs 21:23).