Trust in the Lord with all your heart and lean not on your own understanding; in all your ways acknowledge him, and he will make your paths straight. Do not be wise in your own eyes; fear the Lord and shun evil (Proverbs 3:5 - 7).
Pay attention and listen to the sayings of the wise; apply your heart to what I teach, for it is pleasing when you keep them in your heart and have all of them ready on your lips. So that your trust may be in the Lord, I teach you today, even you (Proverbs 22:17 - 19).
He who gives attention to the word will find good, and blessed is he who trusts in the Lord (Proverbs 16:20).
The fear of man brings a snare, but whoever puts his trust in the Lord shall be safe (Proverbs 29:25).
Have no fear of sudden disaster or of the ruin that overtakes the wicked, for the Lord will be your confidence and will keep your foot from being snared (Proverbs 3:25 - 26).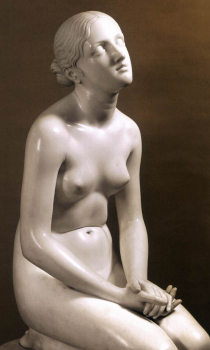 Trust in God
Lorenzo Bartolini, 1833
Every word of God is pure: he is a shield unto them that put their trust in him (Proverbs 30:5).
The rich man's wealth is his strong city, and as a high wall in his own conceit (Proverbs 18:11).
Do not say, "I'll pay you back for this wrong!" Wait for the Lord, and he will deliver you (Proverbs 20:22).
The horse is made ready for the day of battle, but victory rests with the Lord (Proverbs 21:31).
Faithful are the wounds of a friend, but the kisses of an enemy are deceitful (Proverbs 27:6).
A faithful man will be richly blessed, but one eager to get rich will not go unpunished (Proverbs 28:20).
World's Wit and Wisdom
Three may keep a secret,
if two of them are dead.
Benjamin Franklin, 1706 - 1790
He who mistrusts most
should be trusted least.
Theognis, c. 545 B.C.
A greedy man stirs up dissension, but he who trusts in the Lord will prosper (Proverbs 28:25).
A gossip betrays a confidence, but a trustworthy man keeps a secret (Proverbs 11:13).
A wicked messenger falls into trouble, but a trustworthy envoy brings healing (Proverbs 13:17).
A truthful witness does not deceive, but a false witness pours out lies (Proverbs 14:5).
He who fears the Lord has a secure fortress, and for his children it will be a refuge (Proverbs 14:26).
Many a man claims to have unfailing love, but a faithful man who can find? (Proverbs 20:6).
World's Wit and Wisdom
One should never trust a woman
who tells one her age.
A woman who would tell
one that, would tell one anything.
Oscar Wilde, 1854 - 1900
A true friend is one who likes you
despite your achievements.
Arnold Bennett, 1867 - 1931
Like the coolness of snow at harvest time is a trustworthy messenger to those who send him; he refreshes the spirit of his masters (Proverbs 25:13).
Cast your bread upon the waters, for after many days you will find it again (Ecclesiastes 11:1).
Like a bad tooth or a lame foot is reliance on the unfaithful in times of trouble (Proverbs 25:19).
A greedy man stirs up dissension, but he who trusts in the Lord will prosper (Proverbs 28:25).
Who can find a virtuous woman? for her price is far above rubies. The heart of her husband doth safely trust in her, so that he shall have no need of spoil (Proverbs 31:10 - 11).